Reproduction Ceiling Tiles In Metallic Finishes
by Ceilume Smart Ceiling Tiles
1-800-557-0654
Monday - Friday
6:00AM - 4:30PM, Pacific
Partners in Safety
Yacht Club Before and After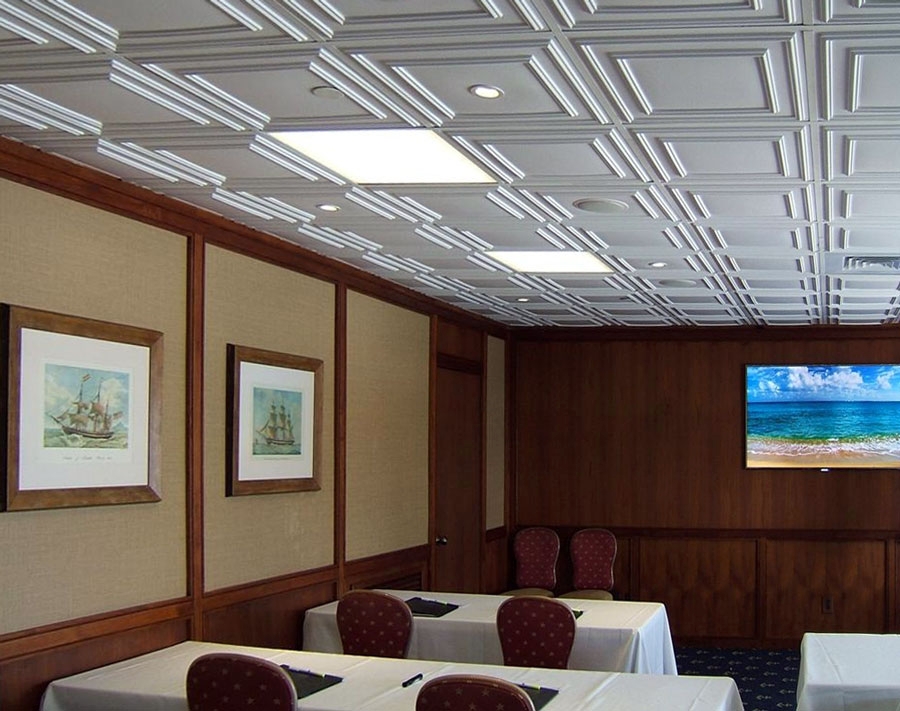 Additional Photos
Installation Description
A drop ceiling installation using
Cambridge Paintable White Ceiling Tiles
.
Customer Testimonial
Here are the before and after pictures.  We replaced our old flourescent fixtures with LED ceiling panels.  We removed wall scounces in favor of small LED spots in the ceiling.  We added ceiling speakers.  We used our original drop ceiling grill, but painted it with a small trim roller.  We removed the old brittle tiles and replaced them with an inexpensive flat tile above the Ceilume tiles.  The room looks great and everyone comments on the beautiful ceiling (almost as much as they comment about the new Smart TV).
-
Andrea T.
Installation Tags
Suspended/Drop
;
2 x 2
;
White
;
Border Tile
;
Back
;
Recessed/Can
;
Air Vent
;
Speaker
;
Cambridge
;
Commercial Before & After
;
Commercial Church/School
;
Commercial Hotel/Motel
;
Commercial Office
Made in the USA.
Warranty
|
Return Policy
|
Terms of Use
|
Contact Us
|
Report an Error
Copyright © 2013
Ceilume: The Smart Ceiling Tile
.