Reproduction Ceiling Tiles In Metallic Finishes
by Ceilume Smart Ceiling Tiles
1-800-557-0654
Monday - Friday
6:00AM - 4:30PM, Pacific
Partners in Safety
We LOVE our new ceiling!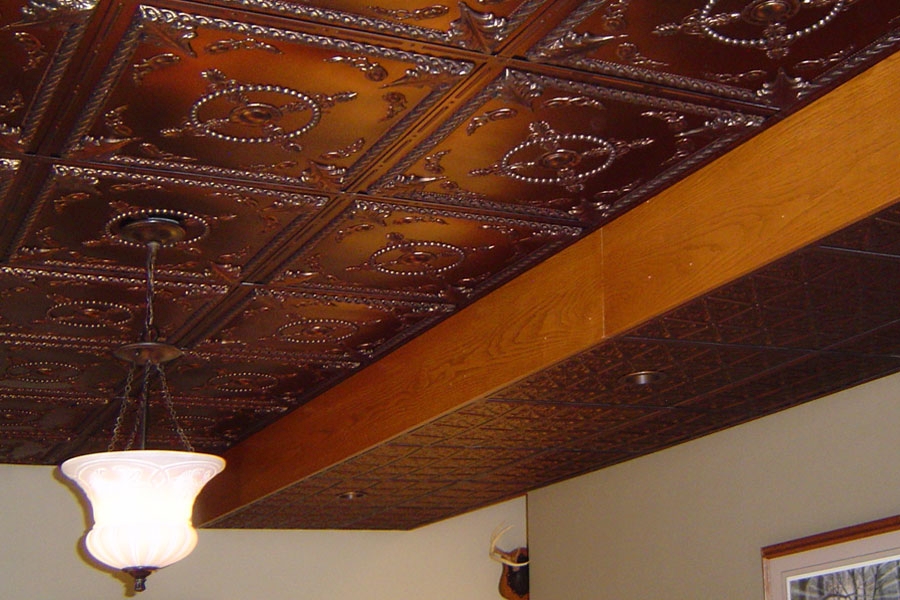 Additional Photos
Installation Description
A drop ceiling installation using
Fleur-de-lis Faux Bronze Ceiling Tiles
,
Alexander Faux Bronze Ceiling Tiles
, and
Decorative Strips
.
Customer Testimonial
We LOVE our new ceiling! We have received so many compliments from guests. They all think it is real tin. The best part is that no one can tell that it is a drop ceiling because the decorate strips camouflage the usually obvious metal grid. The grid just magically disappears. The product quality is outstanding and was very easy to work with.  The customer service department at Better  Than Tin is fabulous. We called a few times with questions and they were incredibly helpful and pleasant. They also followed up with us after the installation to see how everything went. That gesture is the definition of excellent customer service!
-
Beth K.
Installation Tags
Suspended/Drop
;
2 x 2
;
Bronze
;
Border Tile
;
Decorative Strips
;
Recessed/Can
;
Surface Mount
;
Track
;
Sprinkler
;
Alexander
;
Fleur-de-lis
;
Dining Room
;
Living/Rec Room
Made in the USA.
Warranty
|
Return Policy
|
Terms of Use
|
Contact Us
|
Report an Error
Copyright © 2013
Ceilume: The Smart Ceiling Tile
.