Reproduction Ceiling Tiles In Metallic Finishes
by Ceilume Smart Ceiling Tiles
1-800-557-0654
Monday - Friday
6:00AM - 4:30PM, Pacific
Partners in Safety
Coffered Ceiling Transformation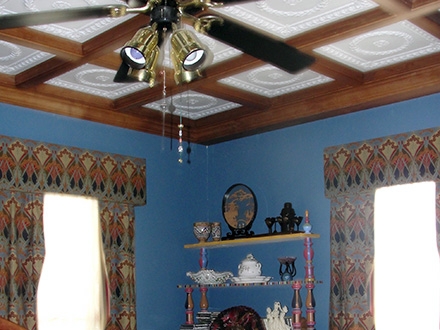 Additional Photos
Installation Description
A glue-up ceiling installation using
Evangeline Paintable White Ceiling Tiles
.
Customer Testimonial
Tiles worked beautifully and transformed a dismal, ordinary room. We chose to create a coffered ceiling that is really amazing. Following up with another email to tell you how pleased I am with the way the ceilume tiles worked for me.  The tiles truly appear to be as if they were cast plaster (the effect I had hoped for) and they serve to lighten up a dark room nicely.  The coffering was a challenge with each area needing to be adapted to the vagaries of a ceiling created in the 19th century, but it was certainly worth all the measuring, leveling, and finagling we needed to do. I'll be delighted to send photographs when I have returned home.
-
Nancy A.
Installation Tags
Glue/Nail Up
;
2 x 2
;
White
;
Coffered
;
Ceiling Fan
;
Evangeline
;
Dining Room
;
Living/Rec Room
Made in the USA.
Warranty
|
Return Policy
|
Terms of Use
|
Contact Us
|
Report an Error
Copyright © 2013
Ceilume: The Smart Ceiling Tile
.