Reproduction Ceiling Tiles In Metallic Finishes
by Ceilume Smart Ceiling Tiles
1-800-557-0654
Monday - Friday
6:00AM - 4:30PM, Pacific
Partners in Safety
Flexible and Popped Right In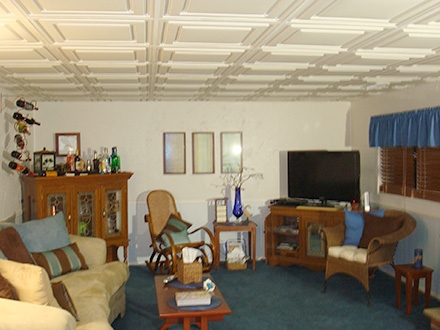 Installation Description
A drop ceiling installation using
Stratford Paintable White Ceiling Tiles
.
Customer Testimonial
Love the ceiling, it upgraded the entire look of the room. It was extremely easy to install and even to cut with scissors.  Had a party last week and all of my friends could not get over how "rich" the ceiling looked.  They loved the fact that I just popped them in.  Have recommended them to a friend at work. The best part is they are flexible... my drop ceiling is only about 2 1/2 inches from the original ceiling and I could not use a regular Armstrong-type panel, because they are hard, do not flex, and there is not enough room to angle the panel to get it into the grid/square. I tried and hated them....they were plain and ugly and the ends chipped off while trying to get them into the ceiling grid (I think they were made of compressed paper) .  Also would have had to dispose of the old tiles... lots of trash in a landfill (and lots of extra work) - love the eco-friendliness of that!! It did not take long at all to install and I did it myself.  The room is approximately 13 1/2 x 24.  It is the best possible product I could have used (without paying someone $3000 to drywall the ceiling) and I did my homework on the internet!
-
Susan L.
Installation Tags
Suspended/Drop
;
2 x 2
;
White
;
Stratford
;
Living/Rec Room
Made in the USA.
Warranty
|
Return Policy
|
Terms of Use
|
Contact Us
|
Report an Error
Copyright © 2013
Ceilume: The Smart Ceiling Tile
.